Fortress Next-Gen Open XDR&MDR
Fortress was developed to enable simplified access to Enterprise-grade Security. MSPs & SMBs who seek to get high visibility and responsivity without the required investment.

Fortress is a Next-Gen Open XDR&MDR (XMDR) platform for Enterprises' SecOps teams and service providers. A unified system that uses insights about external and internal threat landscapes to analyze attack methodologies, threat actors, potential targets, and existing vulnerabilities to create the strongest possible response, eliminating weaknesses and preventing and mitigating attacks.
About Fortress
The philosophy behind Fortress is simple – democratizing cybersecurity.
Founders Menachem Tauman and Gregori Nazrovsky have spent more than two decades protecting organizations from cyber threats.
Whenever they tried to extend the cybersecurity technologies common in extremely large enterprises to SMEs and SMBs, they met with significant roadblocks – the technologies were too complex for the smaller infrastructures.
For any company – large enterprise, SMB, SME – a cyberattack is a when, not an if. The main issue is that smaller companies generally have neither the resources nor the budget to protect themselves against many threats. Fortress is changing that. Fortress has built a comprehensive, holistic infrastructure for SMBs, SMEs, and managed service providers to be able to offer best-of-breed, enterprise-grade cybersecurity technologies at a manageable
scale and price.
Fortress has built a one-size-fits-all administration system that delivers the strongest levels of enterprise security to organizations of any size, no matter their level of IT resources – only a few employees to none at all. MSPs who want to grow into MSSPs can easily leverage the same technology to onboard their own clients quickly and seamlessly. With Fortress, companies of any size can protect their crown jewels – without having to spend the equivalent in security protection.
Platform Services
Pick all or choose only what you need
Endpoint Protection
The endpoint threat surface has grown exponentially with the increase in WFH as well as the proliferation of mobile devices, IoT, and wireless infrastructure. Fortress' endpoint protection secures all devices against ransomware, malware, zero day, and fileless attacks and more.
Email Protection
Nowhere is it more apparent that people are the weakest link in cybersecurity than in email. Social engineering is threat actors' greatest weapon, which makes it critical to secure email against phishing, spoofing, and malicious attachments.
Cloud Drive Protection
More than 90 percent of businesses have migrated some of their applications and data to the cloud. While the cloud service providers are responsible for the security of the cloud, Fortress will ensure you have security on the cloud. We continuously scan all cloud storage and drives to eliminate malicious files.
Backup
No matter how hardened a security system is, human error can make it all for naught. Even a single open port leads the way for cyber mischief – or one keystroke too many can accidentally delete crucial data. With complete backup and restore, vital information will never be lost.
VMDR
VMDR identifies misconfigurations and critical vulnerabilities on applications, operating systems, and other devices within the organization. This is an essential compensation for the fact that IT personnel and DevSecOps are constantly doing more with less. They don't often have time to double check that all their configurations are correct.
Web Protection
Most organizations have specific policies against unauthorized surfing. Even the most diligent of employees may follow the wrong breadcrumbs or simply make a typo in a URL and end up in a malware-infested site. Use Fortress to prevent access to restricted or phishing sites and stop download of malware or malicious files.
Mobile Protection
The proliferation of mobile devices within organizations creates an extraordinary volume of vulnerabilities. Fortress' mobile device protection ensures that your organization is protected no matter where your employees' devices roam.
Awareness
Fortress analyzes data across all users, delivering timely, actionable insights to prevent and mitigate the latest threats. The platform provides full visibility and control of all cybersecurity protection policies, allowing for granular control across organizations, groups, and individuals.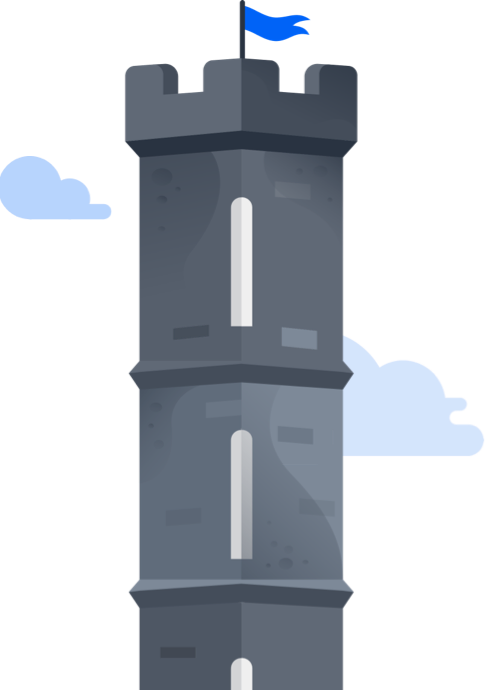 FAQ
We are an MSP and would like to become an MSSP. How can your solution help us?
Fortress is a complete turnkey system. We provide a comprehensive administration system allowing you to manage individual customers from a central console. You can implement levels of protection based on SLAs, leverage our threat intelligence and SOC to investigate incidents, and get detailed reports. On the business side, you can easily choose the level of service for each client, deliver customized reports, and bill for specific services. Furthermore, you and your clients have access to our 24/7 support infrastructure as part of our standard package.
What size organizations can most benefit from Fortress solutions?
The way we have structured our technology allows us to provide turnkey cybersecurity services to companies from 10 employees to 500+. We built Fortress to deliver very-large-enterprise-grade security to smaller companies.
How do I integrate Fortress with my existing security systems?
The benefit of Fortress is that you don't need any additional security systems. We deliver exceptional security with minimal integration. Furthermore, you get savings on day one by eliminating any licensing or administration fees.
How do we become a Fortress customer when we don't have any IT personnel?
Fortress is entirely cloud based. All you need to do is register each user within the Fortress portal. We'll automatically identify the devices they're using and ensure comprehensive protection.
How can Fortress secure my WFH employees?
Employees can register their devices individually on the Fortress portal, or your IT manager can easily connect Fortress to your company's existing IT administration infrastructure.
What does Fortress deliver?
The Fortress cyber management platform provides enterprise-grade cyber services, monitoring, and threat detection, leveraging AI analytics. A SaaS platform, it gives organizations and MSPs full visibility of data assets, security and user risks assessments and computer and network behavior.
Start managing your business security